Brussels, Belgium
September 6th, 7th , and 8th, 2002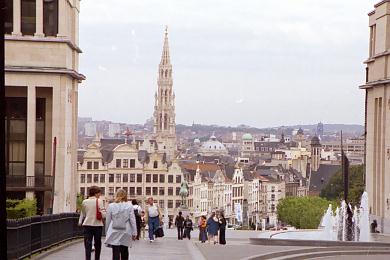 Since Dave had to work during the week, he agreed to meet us in Brussels for the weekend. We had agreed to meet in the train station and if we missed each other then we'd meet at the information booth. We'll we didn't see Dave at the train track when we got off, so we headed out to the only information booth I could find on the map (towards the town center). As luck would have it, there was another information booth in the train station that was hard to find because it was under construction. Dave of course found this info booth and didn't know about the other one. So, we looked for each other for about 2 hours going around in circles. My cell phone never rang (even though Dave tried to call me) and I wasn't able to call out on my phone either. Somewhere around 10:00 pm Dave gave up and went back to the hotel assuming that we caught the later train. Finally with a credit card and the help of the phone assistance on a public phone, we called Dave's cell phone and he came to meet us. At this point we were all pretty pissed off and tired, so we just got some dinner and went to sleep.



Saturday we began our tour of Brussels by daylight!!! Dave had told us that he had trouble getting the rooms for the previous night because there was a beer festival in town, so we thought our first stop should be the tourist booth to find a room for the next two nights.
Of course, due to wrong turns and curiosity we ended up detouring to stop and look at things along the way.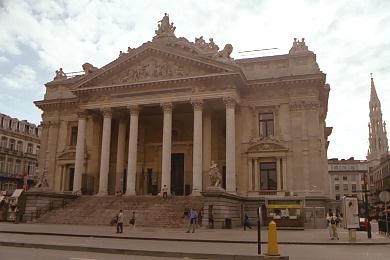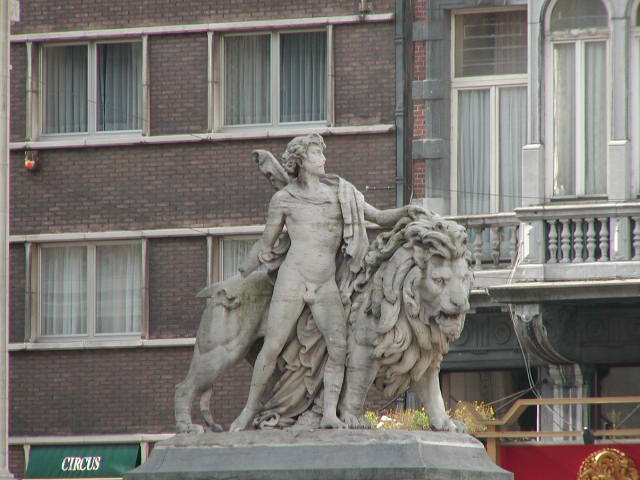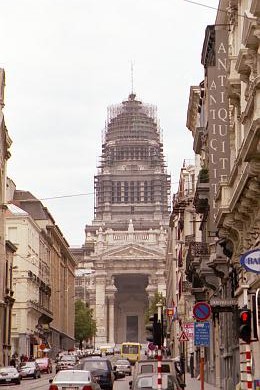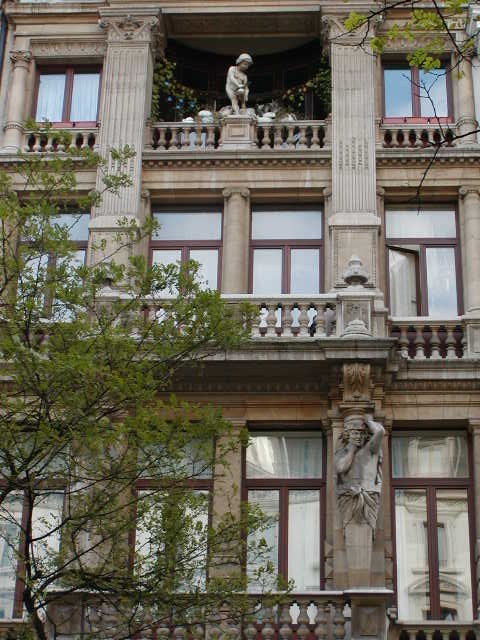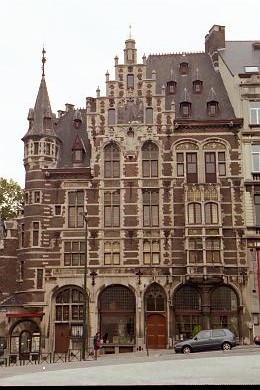 Time for a few family pictures in the park!!!!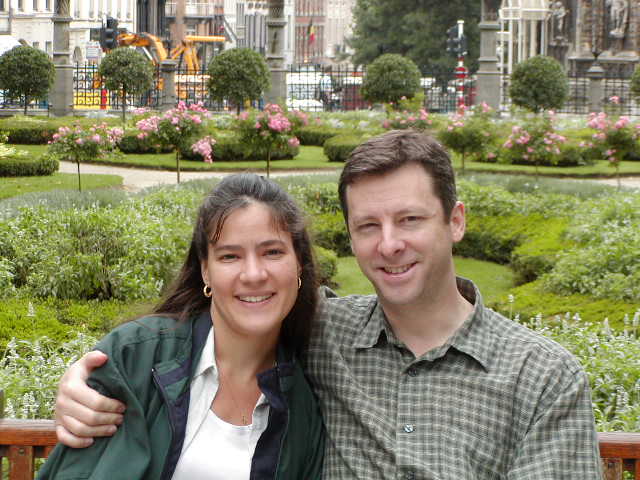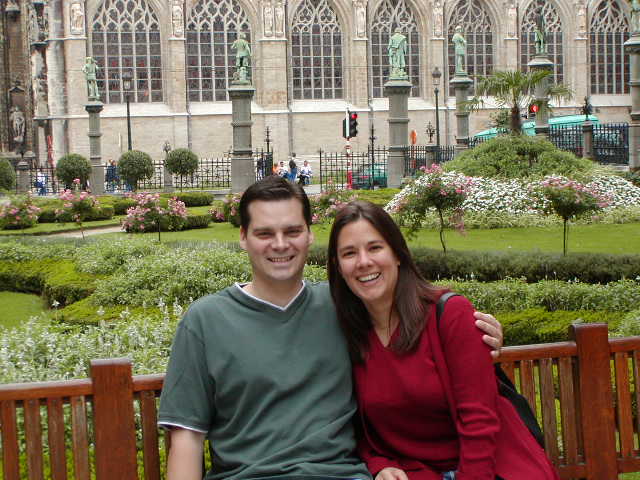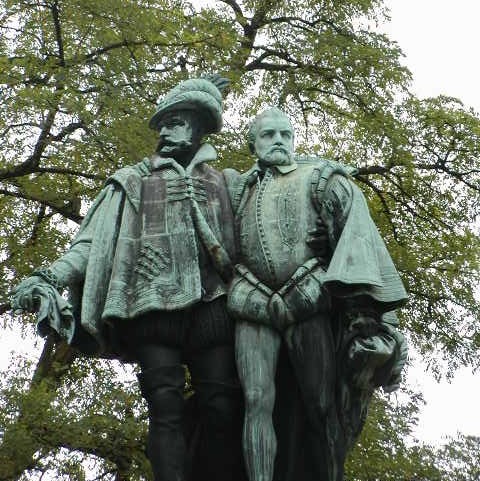 They have an excellent desert/snack in Brussels that is basically a sweet waffle with all kinds of great stuff to go on top; ice cream, strawberries, chocolate, or whipped topping just to name a few! I of course had to sample this specialty with mocha ice cream just to make sure it really was good! Anyway, back to sightseeing... There are numerous churches to look at sprinkled all over the town center.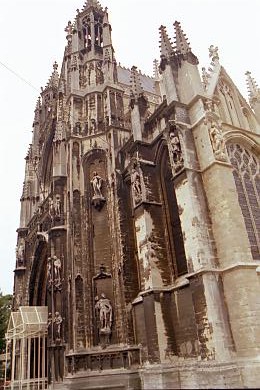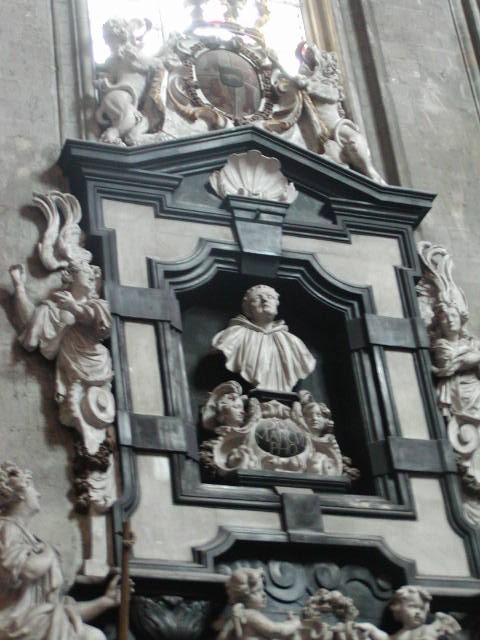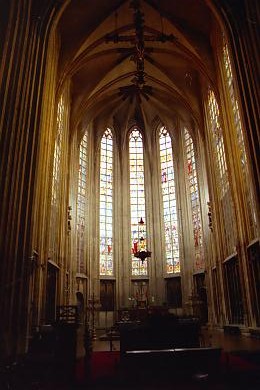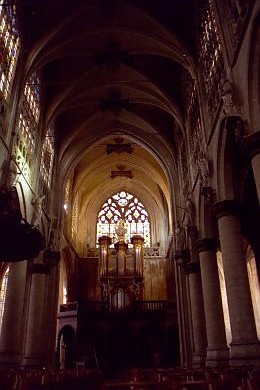 One really great view was from the Palace square looking back into the middle of town. It's up on a hill and then directly below are some fountains and plants and then the rest of the city as the backdrop. (pict top of page)
The Palace buildings and museum buildings beside it are also a sight to see, but the main draw of Brussels is the Grand-Place Grote Markt! This is an absolutely amazing square surrounded by incredible buildings on each side. Built in the 15th century and ravaged by French troops in 1695, the square was later restored to its original splendor. One building has gold trim all over it, another statues of lions and horses on top, and one with statues of people in every corner.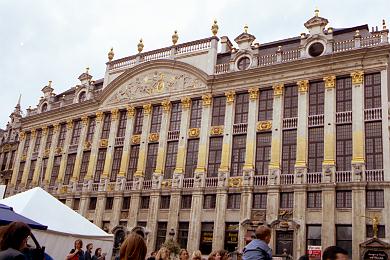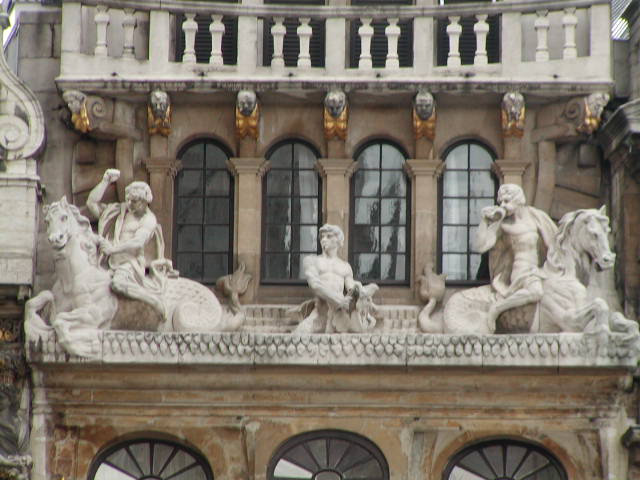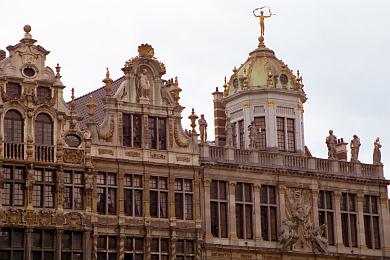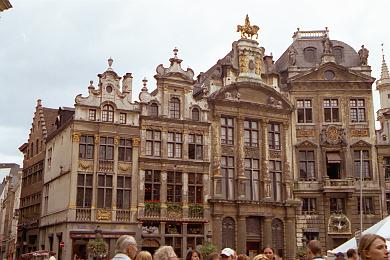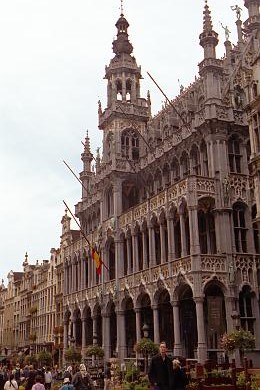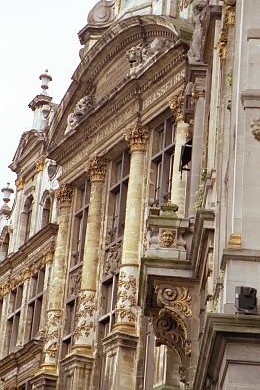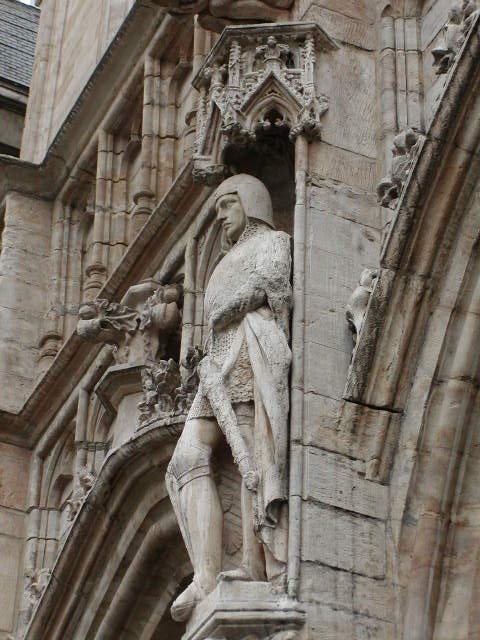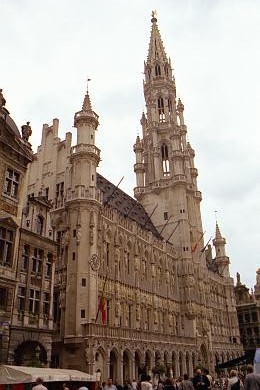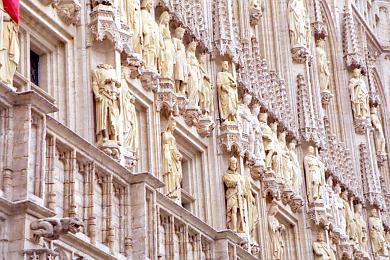 As the day progressed, we made our way over to the tourist information and found out that there is not a room to be had in Brussels (at least not for the amount of money we were willing to pay). Viewing it as an opportunity to see a new place, we board the train for Antwerp (north of Brussels)!
You ready for this! Upon returning to Brussels, we had reserved a room close to the airport so we could leave first thing Monday morning. What we didn't realize at the time we scheduled all of this was that there were two airports and we were at the wrong one! Luckily we figured this out Sunday afternoon since we had to take the train to the airport to get to the hotel. As we walked into the airport Dave exclaimed, "this isn't the airport I flew into"! After talking to the help desk we figured out our mistake and cancelled the hotel. Well we weighed our options and decided it was less hassle to fly out then and there instead of paying for another night at a hotel. Luckily, there was a flight that left in an hour and had seats available! So after standing in various lines, we had new tickets and were home in time for a late dinner!
The

End
Back to Belgium travel page Click here