West of Kowloon Area -- Sai Kung
March 25th, 2003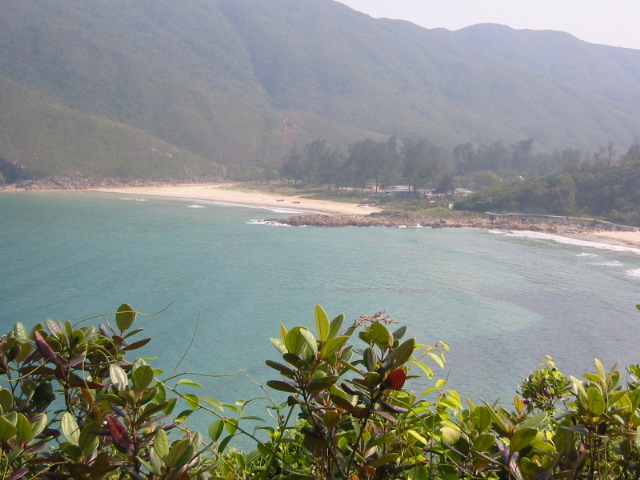 Kowloon is north of Hong Kong Central, across the Victoria Harbor. Since Kowloon appeared to be more city stuff and shopping, we decided to go just east of Kowloon to Sai Kung. Sai Kung is part of what's considered the Eastern New Territories. The pictures in my guide book depicted beautiful sandy beaches, peaceful hikes, and picnic lunches - - sign me up!
Mid-morning we headed down to the sandwich shop for breakfast and sandwich lunches to go. Since we had already purchased "Octipus Cards" (travel cards) we hopped on the MTR (mass transit railway) to the other side of the harbor. Then we hopped on a bus to the Sai Kung water front terminus. Once again, we were approached by all the sampan ladies (boat rides), but instead found a nice park bench to eat breakfast.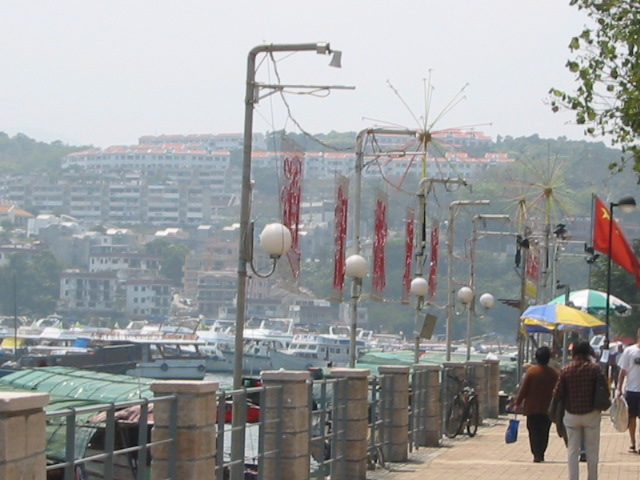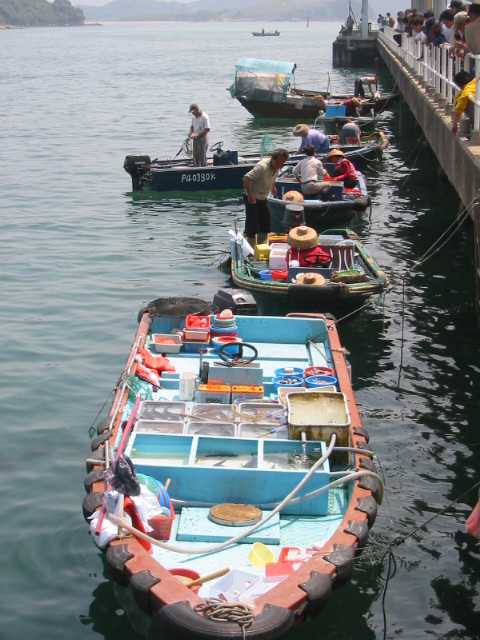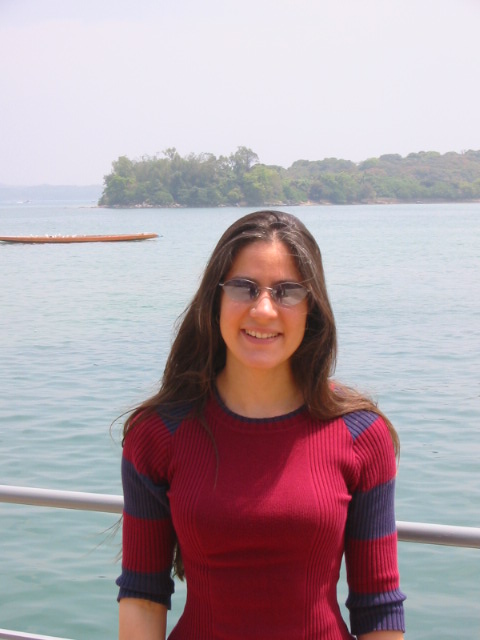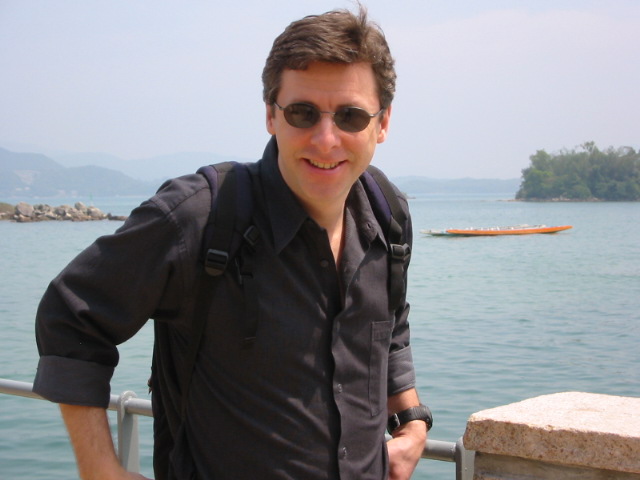 After we finished up lunch, we wandered around the town. The water front was dotted with seafood restaurants which appeared to be Fish Aquariums! They had these huge fish tanks filled with various live fish, big and small. You just walk around, pick what you want to eat, and they fix it up for you! I think they thought I was crazy for wanting to take pictures instead of eating there :)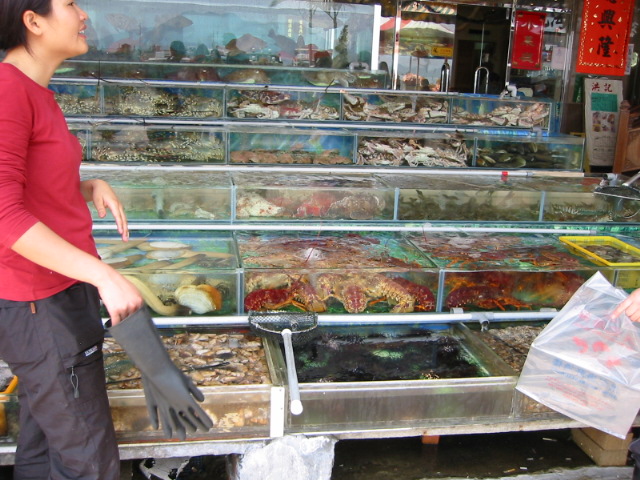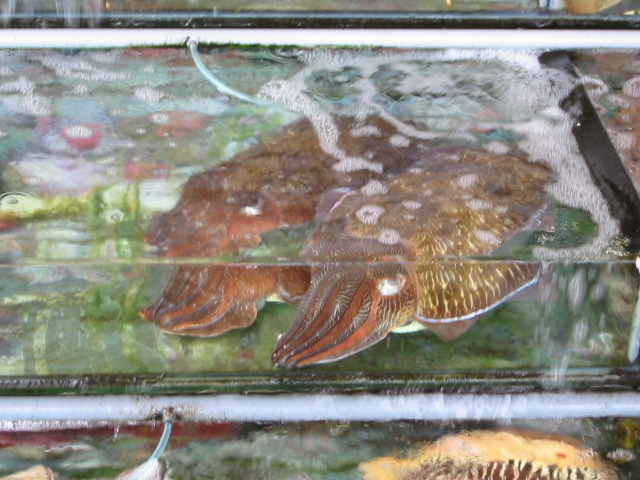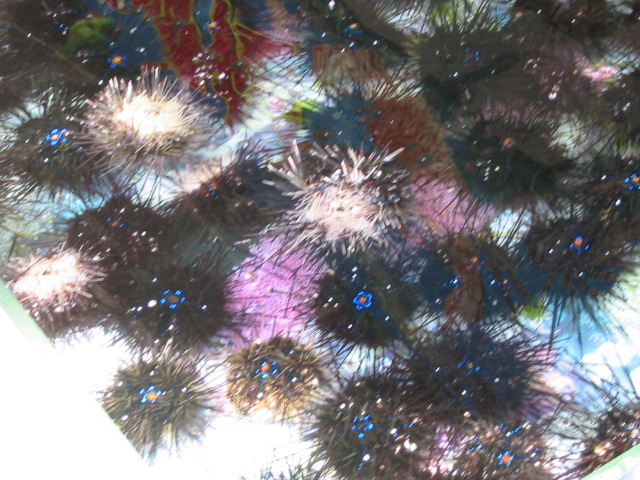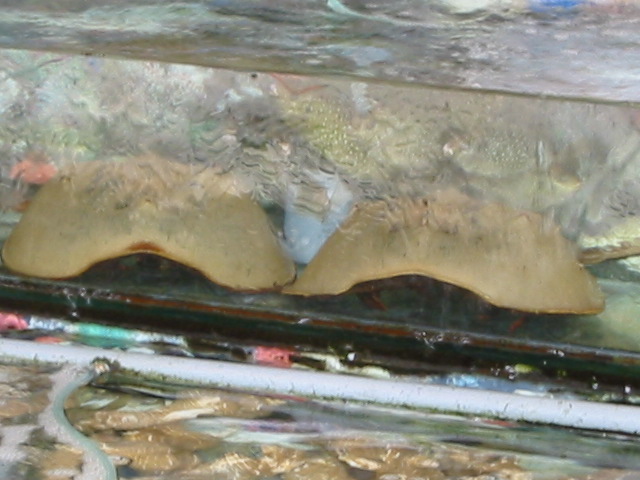 The old part of the town is made up of two and three story buildings lining narrow walkways. Many of these have shops in the ground floor, with the family living above. According to my guide book, these buildings often house several generations under one roof.
Back at the waterfront, we picked up a taxi to Sai Kung Country Park. My book says to get the taxi to drop you off at the Sai Wan Pagoda, so off we go. The thing is that once we get out to the Pagoda we are out in the middle of nowhere! My book details two walks in the park and so I just figured it was easy to get a return taxi. When I ask the taxi driver, he gives us his card and tells us to call. Funny thing is that we don't have a phone! The taxi driver suggests that we hike to the next village (40 minutes) and call from there. OK, guess we'll manage!
Little background... The Sai Kung Country Park is the starting point for the MacLehose Trail. This trail stretches for 60 miles through open country, with places to camp and small villages along the way. Some of the routes are a little steep and hard, but with rewarding views and beaches scattered between!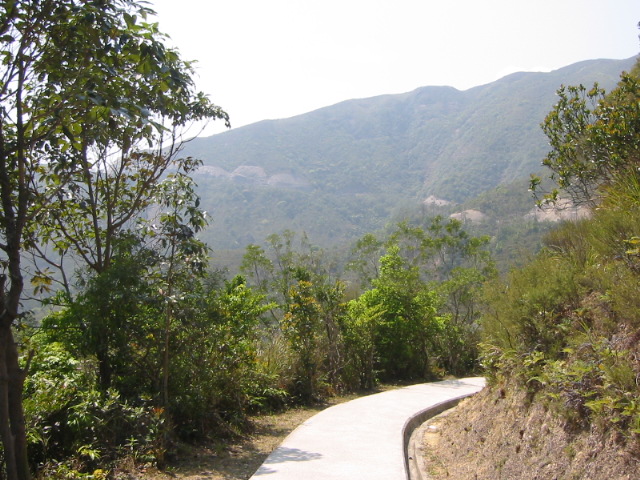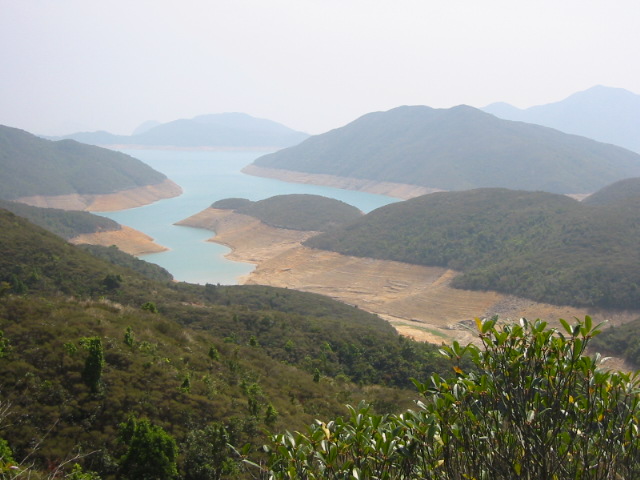 Off we go down the trail with our sandwiches and bottled water to the Sai Wan Beach! After a 30 minute hike through beautiful hilly countryside, we come out onto a little village with a beautiful little sandy beach. As we walk through the village, we spy several local elderly people relaxing under shady trees and sheds. There is one little cafe with a patio, which thrives on the tourists hiking through. We go out to a jutting of rock in the water to eat our lunch.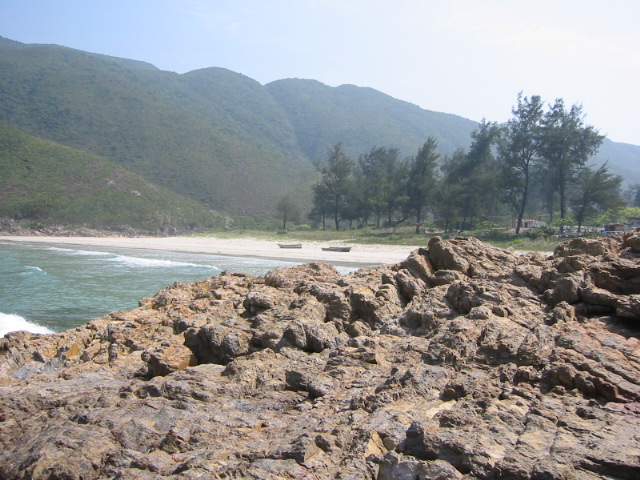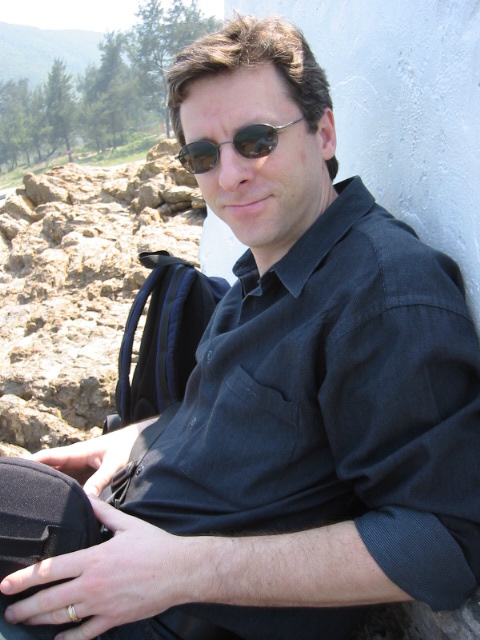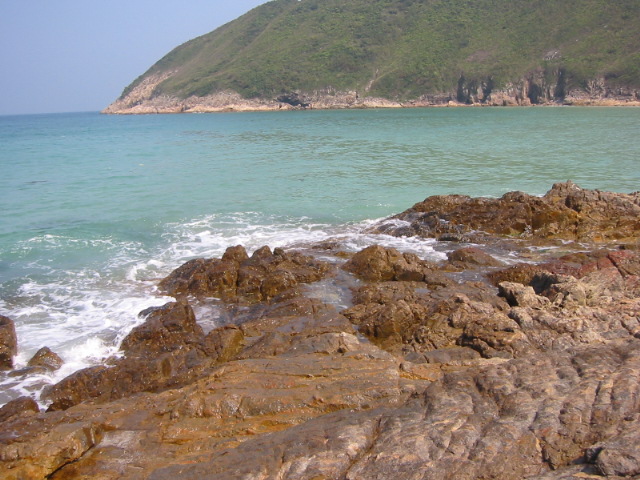 Lunch was nice and relaxing, but time to hike on the next trail. We had to cross this little foot bridge and then head back up the hillside. We weren't quite sure if we were headed in the right direction, but there wasn't really anywhere else to go. My guide book mentioned a waterfall, but we never did find that! I'm glad for the maintained walkway, because the plant growth is so thick I can't imagine trying to get through it without a machete.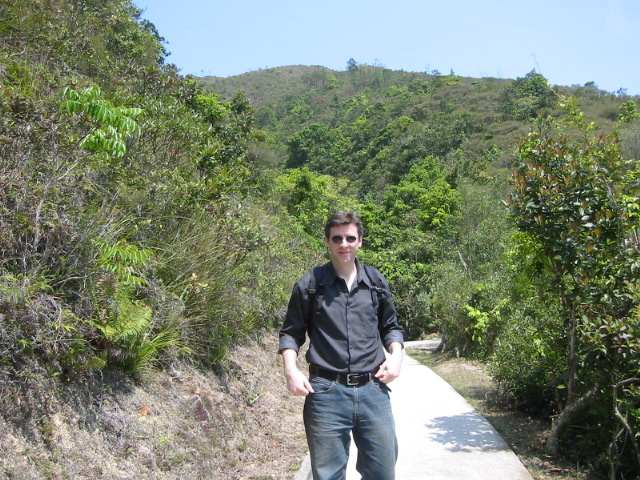 As we round the top, we emerge with steep cliffs on one side and steps which lead to the village of Ham Tin with another beautiful beach. This time we stop at the cafe and have an ice cream! We were really roughing it!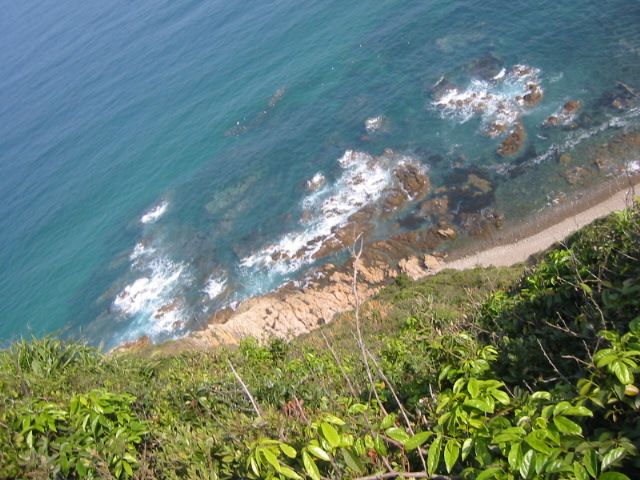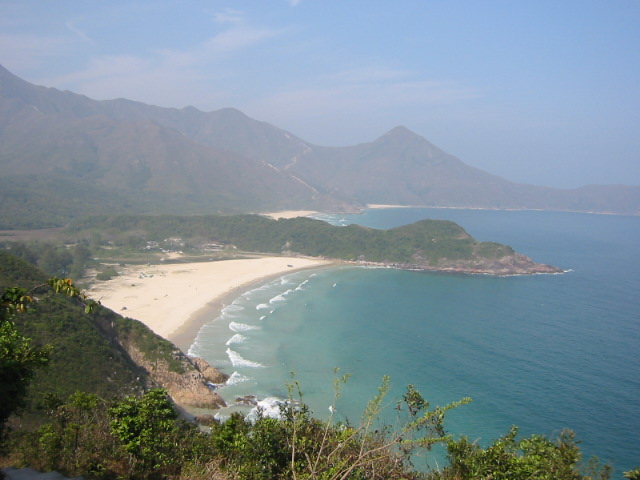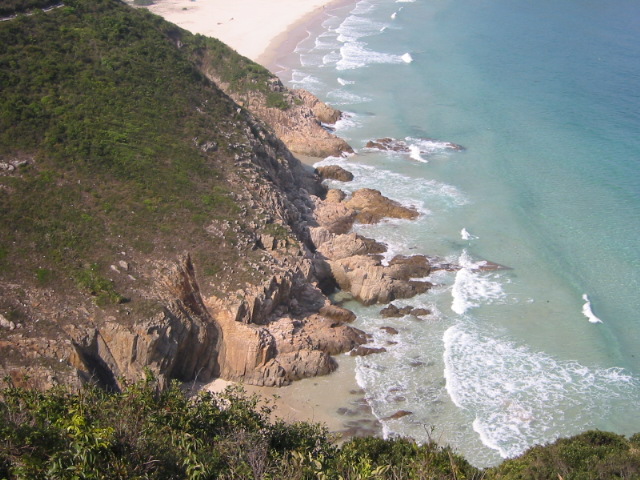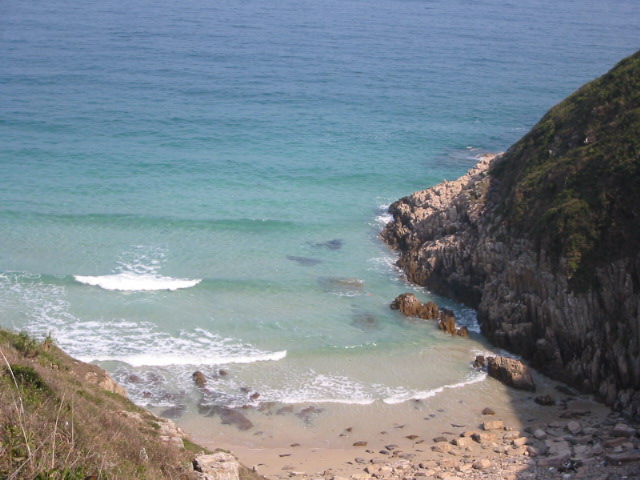 As we sat at the table eating our ice cream, I started reading further ahead in my guide book to figure out where we were. I finally realized that on a couple of pages further it described Ham Tin and how to get back to Sai Kung from there! Yeah!!!! We did have a way to get home! After asking a couple of directions from nice people along the way, we set out on our trail towards Tai Long Au and Sha Tau. One local guy said he jogged these trails all the time and that if nothing else, after about 2 hour hike we should come out to the highway and pick up the bus from there. The views from Tai Long Au were really scenic, but because of the afternoon sun, the pictures came out a little hazy.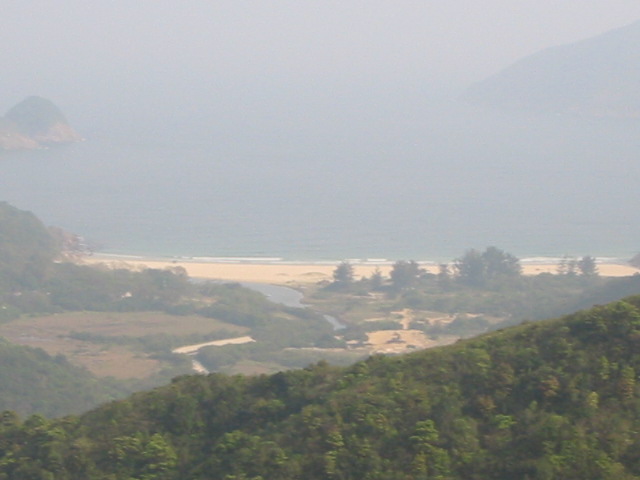 At Sha Tau, my book suggests that we take the ferry to Wong Shek. There were two little piers at Sha Tau and of course we pick the wrong one first. We go to the pier and the boat lady is yelling something at us which we don't understand due to the language barrier. Of course, now we know she was telling us we were at the wrong pier! So I go up to this building and start asking people which way to go. At the second pier, there is now quite the group gathering and I realize that according to the time table it is getting close to the last boat out! As a little speed boat pulls up, a bunch of guys start piling on and so I'm asking all of them "Wong Shek?". They agree, so we scamble on board and head bumping across the water to small little park. Wong Shek is nothing more then a picnic park, but the bus picks up there and the local guys automatically point me to the bus stop back to town!
We made it back in time for a quick bath and dinner at the Thai restaurant again! This time we tried the coconut crusted shrimp for appetiser and absolutely loved it!
The

End
Back to Hong Kong page Click here