Milan, Italy
September 11th-17th, 2003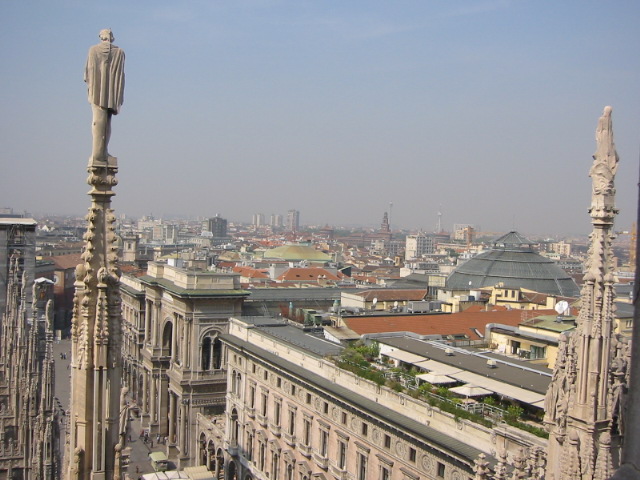 Thursday midday we boarded the plane to Milan! From the airport, we had to take a one hour bus ride to the central train station. Since I had not been able to find suitable accommodations on the internet, we decided to wait until arrival at Milan. Immediately we were approached by someone offering rooms at a hotel down the street. Problem was that once we got to the hotel they only had single beds left. Next we decided to visit the tourist shop, but it was closed. There was another guy trying to offer booking rooms, but they were ridiculously expensive for the quality. When we pointed that out, he said it was because of the fashion conference going on in Milan that week. Well when all else fails I pull out the travel book... sure enough we found a room for a decent price with a really nice owner. I read in the book that it was a ten block walk, so armed with our map we setoff with our roller bags. However, there was one slight miscalculation at one of the circular intersections and we ended up going down a wrong street. Of course many of these streets run off at angles from the circular intersections like wagon wheels. A few blocks later we are checking the map and nothing looks familiar anymore! After searching around the map, we realized we were about 4 blocks off course and really hungry. Finally a little after dark we arrived at the hotel. We got the room at the top with a nice little balcony!
The hotel owner suggested a restaurant just down the street with good food in large quantities. It was absolutely wonderful! The portions were large and since we were so hungry our eyes were bigger then our stomachs. We got a pizza to share, some spaghetti, and a carafe of house red wine. I loved the pizzas there because they are on the really thin crust with well seasoned tomato sauce and tons of choices for toppings. After dinner we stood on our balcony and gazed at the stars, moon, and Mars. I was glad to see Mars outside of London since the skies here were clearer and Mars is so close to Earth right now.
Friday morning we got dressed and headed to the central train station to catch a train to Monza. I checked the departure sheet and there were several trains to Monza. We then proceeded to the ticket machine, purchased a ticket, and tried to find the train. We looked, but noticed that all the trains appeared to be more long distance trains. Then we asked at one of the booths (not really an information booth), but the lady pointed at the screen noting that the next train was hours from now. We asked about other trains and she pointed at the screen saying something in Italian. It finally dawned on me, we were at the wrong station! The majority of trains to Monza leave out of another station, which was not plainly evident from any of the documentation we had seen so far. I quickly pulled out my metro (subway train) map and located the correct station. Ten minutes later we were in the right station and running for the train! As we ran on board the train, they were blowing the final whistle and the doors shut behind us. We saw out of the windows a couple of other people who where heading for the train, but didn't quite make it.
CLICK HERE FOR THE MONZA PAGE!!!
We returned to Monza again on Saturday and Sunday (much smoother transition since we knew where to go). Sunday after the race, we decided to return to the Cathedral area in Milan to do a little sightseeing. Mainly I wanted to see the Cathedral, but it was already closed for the evening. I settled for walking up and down the main streets, which were devoted to shopping. We also wanted to find a place to eat, but it appeared to be all overpriced tourist food.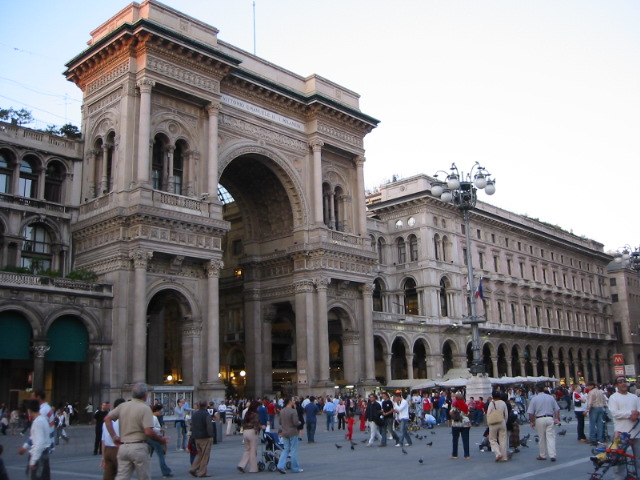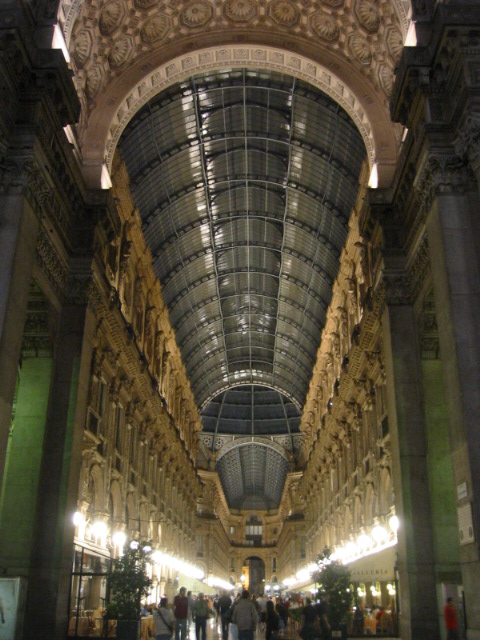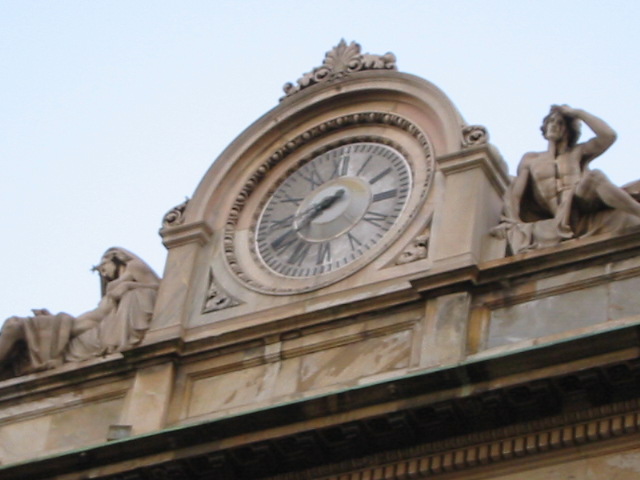 Finally, after our feet were worn out we headed back towards our hotel. Along the way we came across a little restaurant and pizzeria which smelled really good, so we went inside to try it out. Dave ordered the Milanese Risotto and I ordered the Pepper Steak. Both were extremely good! For dessert we couldn't help but order the tiramisu. It was one of the best I've had in a long time!
Monday morning we checked out of our hotel and headed for Stresa on Lake Maggiore.
CLICK HERE FOR THE STRESA PAGE!!!
Wednesday we returned once more to Milan to catch our flight home. We took the morning train and arrived back in Milan with a little time to kill before the flight. I still wanted to see the Cathedral, so we headed over there to sightsee and grab some lunch.
Cathedral construction began by Galeazzo Visconti III, the first duke of Milan, in 1386 and was not completed until 1897. It is one of Italy's largest Gothic structures with over 2000 marble statues and 135 marble spires. We took the stairs to the top of this one for a view of the city!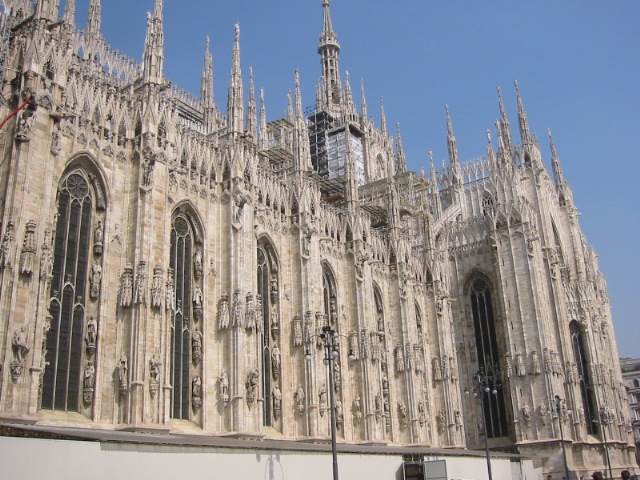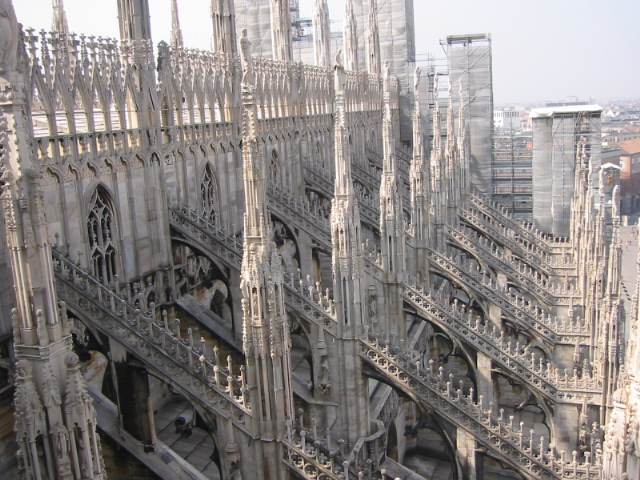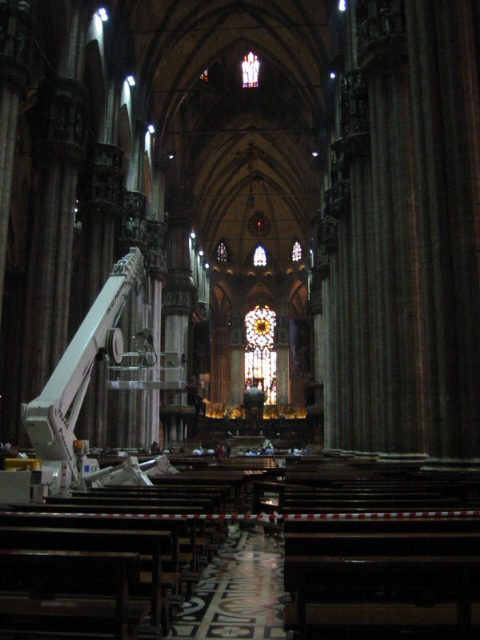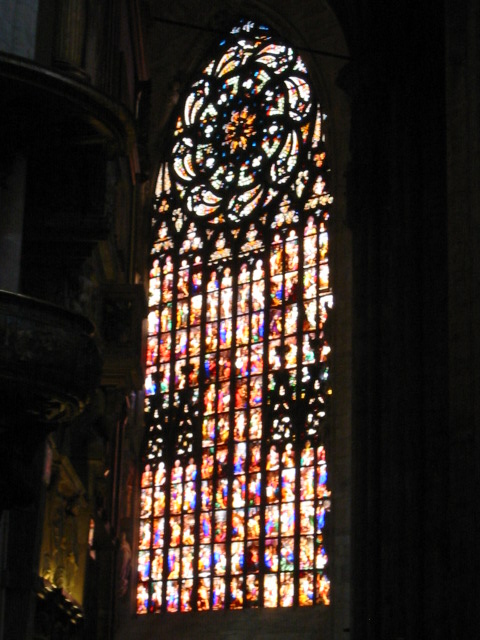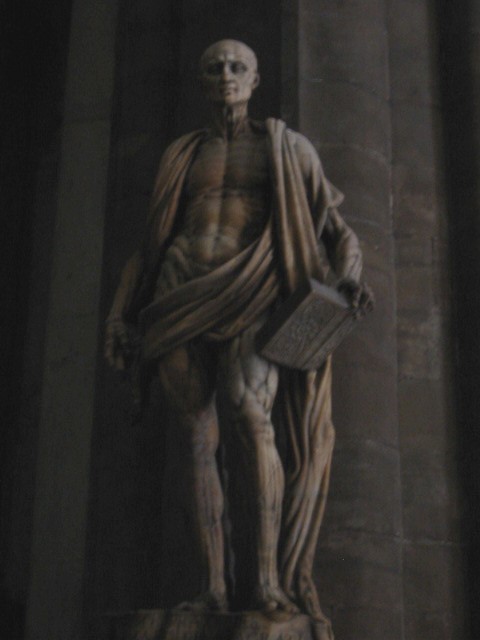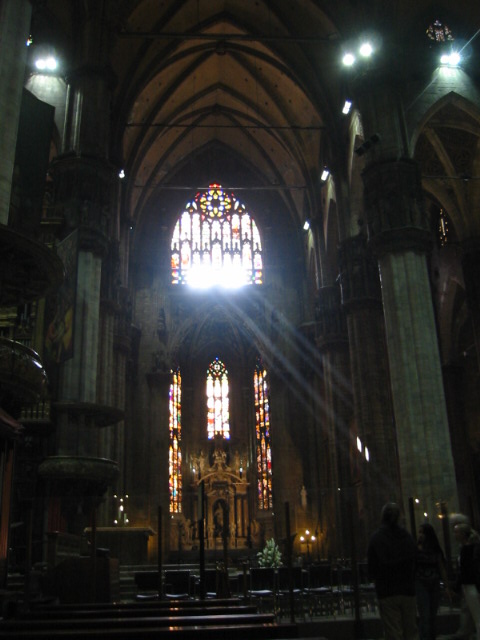 After the cathedral we stopped for lunch and ice cream. We ate the ice cream on the duomo steps and people watched for a while.
I had a little bit of bread to get rid of before we headed for the airport...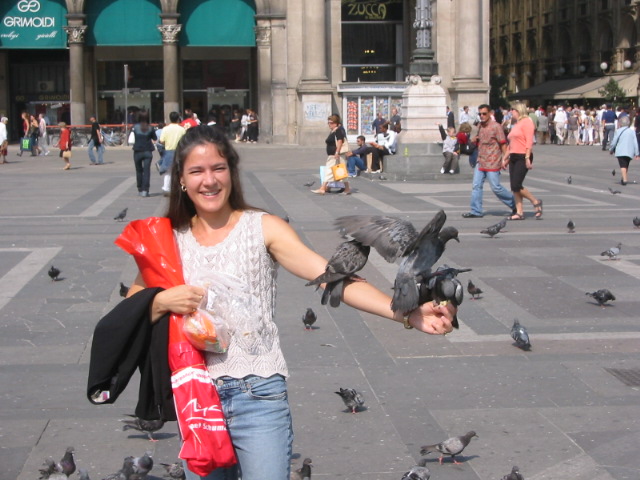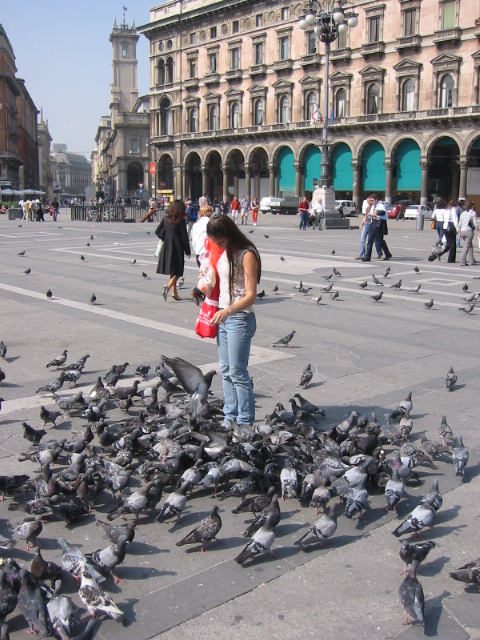 As we lined up for the bus back to the airport I started digging the change out of my pockets. It would cost us 9 euro for two tickets and I wasn't sure how much money we had left. Turns out we had exactly €9.22! Whew, just made it. Now we could relax!
The

End
Back to Italy travel page Click here